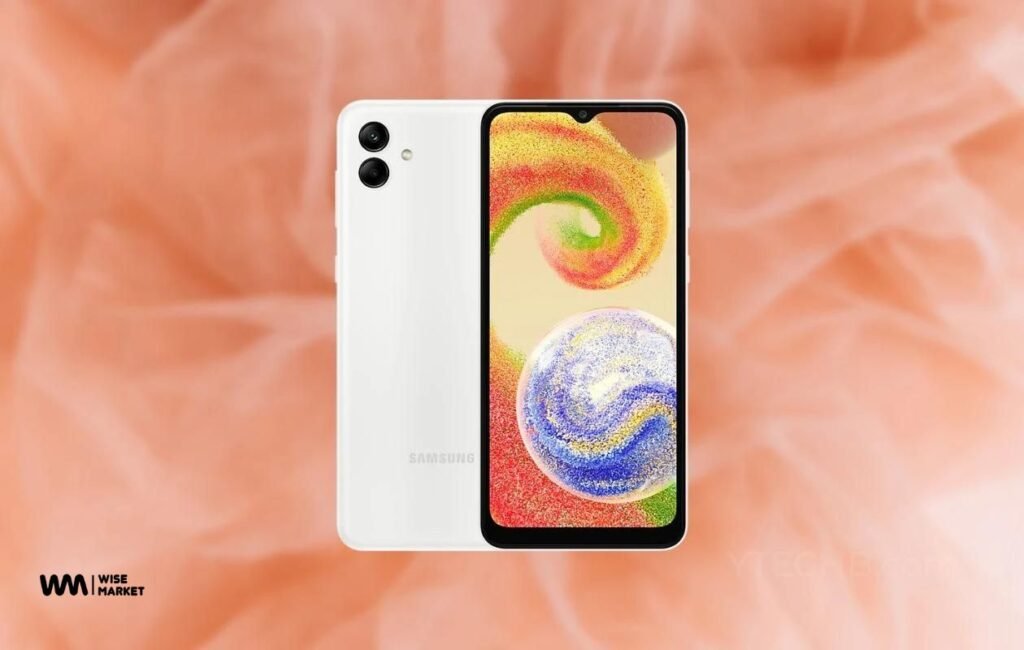 When it comes to the Samsung Galaxy A04, you know that you're getting a powerful and versatile device. But did you know that this phone also has some hidden features that can make it even more useful?
Introduction
The Samsung Galaxy A04 is a powerful and feature-packed smartphone that stands out from the crowd. It packs all the latest tech, including a 6.5-inch HD+ Infinity-O display, an Octa-core processor, and 128 GB of storage space. But what makes this device shine is its selection of hidden features that can help you get more out of your phone.
In this blog post, we will be looking at five of these features – Multi-Window Mode, Smart Capture, Game Launcher, One-Handed Mode, and Dual Messenger – as well as sharing some tips on how to take full advantage of them. Through this post, you will learn how to easily multitask with Multi-Window Mode. Capture screenshots with Smart Capture. Customize your gaming experience with Game Launcher. Use One-Handed Mode for easier navigation. And increase your productivity with Dual Messenger. Finally, we'll provide a conclusion that briefly summarizes the main points discussed in this article. So if you're looking for ways to get more out of your Samsung Galaxy A04, keep reading!
Multi-Window Mode
The Samsung A04's Multi-Window Mode is a powerful tool for multitasking. With just a swipe from the top of the screen or a tap and hold of the Recent Apps button, users can easily open two apps side by side on the same screen. This feature makes switching between tasks incredibly quick and convenient.
Users also have full control over how much space each app takes up on the screen, allowing them to customize the position and size of each window. The Multi-Window mode supports up to 20 apps, so users have plenty of options for multitasking. Best of all, this feature can be accessed from anywhere on the device; you don't have to go into a specific menu or use an additional app to access it.
To get even more out of this feature, users can drag and drop content between apps in Multi-Window Mode. For example, if you are researching something online but need to take notes at the same time, you can open both an internet browser and your note-taking app in Multi-Window Mode, and then drag text directly from one window into the other with ease. You can also drag pictures or videos from one window to another without having to save them first.
Multi-Window Mode is a great tool that makes multitasking simpler than ever before on the Samsung Galaxy A04. With just a few taps, users can quickly switch between multiple tasks with ease! And this amazing feature is available almost in every Samsung mobile phone.
Smart Capture
Smart Capture is a convenient feature of the Samsung Galaxy A04 that makes taking screenshots easier than ever. With Smart Capture, users can quickly and accurately save images, text, and other data from websites, emails, and more. It also allows for easy cropping and enhancement of screenshots before they are shared with friends or uploaded to social media.
And makes it simple to take precise screenshots. To take a screenshot using Smart Capture on the Galaxy A04, users simply press the power button and volume down buttons simultaneously. This will capture a screenshot of whatever is currently on the phone's display, making it easy to save images or text from any source.
After taking a screenshot with Smart Capture, users can further customize their screenshot by drawing on it or adding annotations. Additionally, they can crop out unwanted elements in the image before sharing it directly with other apps or social media accounts. Finally, users can even enhance their screenshots with built-in editing tools such as brightness control and saturation adjustment features.
The Samsung Galaxy A04's Smart Capture feature is an incredibly useful tool for those who need quick access to images or text from any source without having to worry about saving them manually. With its ease of use and customizable options for editing photos after capture, Smart Capture makes taking accurate screenshots an effortless process on the Galaxy A04.
Game Launcher
The Samsung Galaxy A04's Game Launcher is an incredibly helpful feature for gamers, allowing them to easily access all of their games in one place, customize the gaming environment to their liking, and control notifications so they won't be disturbed. With the Game Launcher, users can also take advantage of exclusive content such as new levels and rewards. This feature makes the Galaxy A04 an ideal choice for gamers looking for an enhanced gaming experience.
The Game Launcher gives users a centralized hub to control their gaming activity. All installed games are organized in one place, making it easy to find and launch any game you want. It also features a "Game Booster" mode that can optimize your device for maximum game performance by closing background apps and reducing animations and other processes that could slow down your phone during intensive gaming sessions.
In addition to organizing your games, the Game Launcher in Samsung Galaxy A04 also allows you to customize your gaming environment with themes and wallpapers. You can even create custom collections of games based on genre or playdate so that you'll always know where to find them when it's time for some leisurely entertainment.
Finally, the Game Launcher helps gamers maintain focus by allowing them to turn off notifications from other apps while playing a game. This ensures that they won't be interrupted while playing their favorite titles while still keeping up with important messages from friends or family members.
Overall, the Samsung Galaxy A04 features a powerful suite of tools designed specifically for gamers or anyone who needs a little extra help staying focused while playing video games. With its intuitive interface and customizable settings, it truly is an ideal device for gamers looking for an enhanced experience on their mobile device.
One-Handed Mode
The Samsung Galaxy A04 offers a handy feature for those times when you need to quickly access your phone with just one hand. One-Handed Mode shrinks the display to make it easier and more comfortable to use, allowing you to adjust the size and position of the display as well as customize the shrink ratio and choose which side of the screen you want it to appear on. This feature is especially useful in situations where you need to access your device quickly while using only one hand.
One-Handed Mode can be activated by swiping left or right from either corner of the screen, depending on which side you want it to appear on. It can also be accessed from the Quick Settings menu or through an app shortcut located on the home page. Additionally, users can also activate the One-Handed Mode of Samsung Galaxy A04 by pressing and holding down both volume buttons simultaneously. Once activated, users can simply drag their fingers across the screen to move their shrunken window around or pinch two fingers together or apart until they reach their desired shrink ratio size.
The flexibility of this mode makes it incredibly convenient for a variety of uses; whether you're trying to take a quick photo with one hand or type out an important email while multitasking, One-Handed Mode will make your life much easier. Additionally, this mode is great for those who have difficulty accessing their phones due to physical impairments – its adjustable size and positioning make it perfect for anyone who needs a little extra help when using their device with one hand.
Whether you're looking for an efficient way to multitask or are looking for an accessibility solution that works best for your situation, One-Handed Mode is sure to come in handy on your latest Samsung mobile phone!
Dual Messenger
The Samsung Galaxy A04 provides a great way to manage multiple messaging accounts with ease. Through its Dual Messenger feature, users can create two separate accounts for different messaging apps and customize which ones they want to use in this mode. This allows them to keep their work and personal accounts separate without needing to switch devices or log out of one account to access the other. Simply open the Settings app, select Advanced features > Dual Messenger > toggle On/Off, and choose which apps you'd like included in dual messenger mode from a list of compatible applications including Facebook, WhatsApp, Twitter, and more.
Once activated, each app will have an icon indicating whether it is running in single or dual messenger mode – allowing you to quickly switch between your work and personal accounts without needing to log out and back into each one individually. This eliminates the need for multiple devices while still allowing users to stay up-to-date on messages from both their business and personal lives.
Overall, Dual Messenger is a fantastic tool for those who need to manage multiple messaging accounts from the same device; no matter if it's for professional purposes or just keeping in touch with friends & family – this feature makes it incredibly simple!
Conclusion
The Samsung Galaxy A04 is a great device for anyone looking for an easy and efficient way to manage multiple tasks, take screenshots, customize their gaming experience, and more. With its hidden features such as Multi-Window Mode, Smart Capture, Game Launcher, One-Handed Mode, and Dual Messenger, the Galaxy A04 allows users to multitask with ease while still enjoying all the benefits of a powerful smartphone.
Thanks to these features, users can get more out of their devices than ever before. Whether you're multitasking between two apps or launching games with one hand, the Samsung Galaxy A04 has something for everyone. We hope that this blog post has helped you discover some of these hidden features and how to get the most out of them. Thanks again for taking the time to read and comment on our blog post – we appreciate it!
Additional Tips
This section of the blog post will provide readers with additional tips for getting the most out of their Samsung Galaxy A04. To keep your device running smoothly, it's important to check for new software updates regularly. Not only do these updates add new features, but they can also patch up any security holes and help keep your device secure.
Another great tip is to store important documents and files in the Secure Folder feature. It provides an extra layer of security by protecting users' sensitive data from any unauthorized access or sharing. The phone's Private Mode also allows users to hide personal data such as photos, videos, contacts, messages, and more from others who might be using the same device. This model also comes with a Fingerprint Scanner for added security.
If you're looking for a safe environment for your child to explore on their Galaxy A04, Kids Mode is a great option. This mode puts restrictions on which apps can be accessed and ensures that kids stay within age-appropriate content while using the device. It also includes parental control options that allow parents to monitor their child's usage time and set limits accordingly.
Finally, the Dual App feature allows users to have two separate accounts on messaging services such as Facebook Messenger or WhatsApp without having two devices—a great way to keep work and personal accounts separate without dealing with logging out and back into each one individually every time you need something from either account. Whether you're using it for business or pleasure, Dual App makes sure you stay connected all day long!
These tips will help readers get the most out of their device and make sure they are taking full advantage of all the features that the Galaxy A04 has to offer.
Where To Buy
If you've already made up your decision to acquire it and want to know the Samsung A04 price in Pakistan, Wise Market Pakistan is the best spot to do it. Recently, I found a great deal on a used Samsung Galaxy S22 Ultra 5G with a pair of Galaxy Buds 2 Pro. Since then, I haven't had any issues, and both of those devices are in good working order. When I was satisfied with their job, I bought my younger brother a used iPhone 12 Pro, and I can confirm that it was delivered with a 100% battery life.
What else are you waiting for? Now is the time to place an order with Wise Market PK to get the best offer on yours. Check out their amazing assortment of smart items as well, which range from gaming consoles to wearables.